Primo - bibliotekets söktjänst

Primo är en söktjänst som ersätter bibliotekets katalog. Förutom bibliotekets tryckta böcker, e-böcker och tryckta tidskrifter söker du bland uppsatser och miljontals artiklar.
Det finns fortfarande brister i Primos täckning när det gäller juridiska artiklar.

LIBRIS

Nationell katalog med beståndet från Sveriges universitets-, högskole- och specialbibliotek

Nya böcker i biblioteket
Patenting Medical and Genetic Diagnostic Methods
ISBN: 9781781001776
Publication Date: 2013-01-30
"This thoroughly-documented book explores in detail the issue of patenting medical and genetic diagnostic methods in the United States. It examines decisions of the Patent Office Boards of Appeal and the early courts on the question of whether medical treatments were eligible for patent protection under section 101 of the Patents Act. It then traces the legislative history of the Medical Procedures and Affordability Act that provided immunity for physicians from patent infringement suits. After considering the Supreme Court's jurisprudence on patent eligibility, the book then comprehensively sets out how the Federal Circuit and the Supreme Court have dealt with the issue, paying close attention to the Supreme Court's recent decision in Bilski and Prometheus. "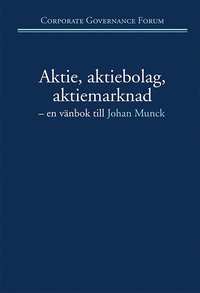 Aktie, aktiebolag, aktiemarknad : en vänbok till Johan Munck
ISBN: 9789185333479
Publication Date: 2013-03-01
"Johan Munck har sedan många år en central roll inom utvecklingen av associationsrätt, aktiemarknadsrätt och värdepappersrätt. I uppdrag som utredare, domare, skiljeman, ordförande i flera viktiga nämnder och på andra sätt är han flitigt verksam med en oerhörd arbetskapacitet och stort inflytande.

Som en hyllning till Johan Munck i samband med hans 70-årsdag i februari 2013 har arton vänner och kolleger författat denna skrift med uppsatser i ämnen under den sammanfattande titeln "Aktie, aktiebolag, aktiemarknad".

Skriften är sammanställd av Högsta domstolens ordförande, justitierådet Marianne Lundius, civilekonomen Ragnar Boman och adj professorn Rolf Skog, som alla har samarbetat länge och nära med Johan Munck i olika sammanhang."
How Fixed Is a Permanent Establishment
ISBN: 9789041146625
Publication Date: 2013-02-20
"Permanent establishment is the key concept for allocating taxation rights in respect of business income, and the question "Is there a permanent establishment?" is a tax treaty issue that advisers, government officials, and courts perennially confront. Based on a "fixed link to the ground", the idea has become progressively more difficult to apply until, at this stage, re-evaluation has become a political necessity. If a permanent establishment may exist in the context of e-commerce, the concept of a geographical presence must be redefined. However, the question remains: Is e-commerce a sufficient reason for challenging the well-established permanent establishment nexus? "
Erik Åkesson
JavaScript disabled or chat unavailable.
Contact Info
Erik Åkesson
Högskolebiblioteket i Jönköping
Tel: 036-101039
Send Email